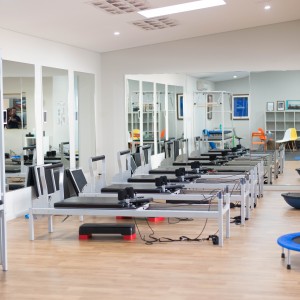 Pilates has become a popular form of exercise for good reason. Originally developed for ballet dancers by Joseph Pilates who himself trained at high levels equivalent to ballet and gymnastics. Physiotherapists use pilates training to assist efficient movement, retrain core strength in and assist flexibility. Physiotherapists implement clinical pilates using anatomical knowledge, biomechanics and medical backing to help rehabilitate patients post surgery, with sports injuries, long term low back pain, medical conditions and musculoskeletal dysfunction.
Our practice is set up with pilates machines (reformers) that work on spring based resistance. They target all aspects of the body, are safe, can be used for motor control (core stability), flexibility and strengthening. All sessions are guided by a physiotherapist and specific to individual patients. Feel free to contact us and discuss the process for an assessment that includes training on a reformer and discussion of any surgical, medical or musculoskeletal problems. If you are looking for Dunsborough Clinical Pilates sessions please give us a call.
Clinical Pilates are rehab sessions and cost $45 for 1 hour. Sessions are conducted by a physiotherapist and claimable on your private health insurance.
The Group Prehab is for patients who have rehabilitated in Clinical Pilates sessions and are keen to progress their exercise rehab or work at a slightly higher intensity. The circuit involves group rehab of 8-10 people and offers a progression for rehabilitation or injury prevention. Cost is $25 for 1 hour session, a card with 10 sessions is available for $250.